Transportable Shade Sheds fabricate a large range of products for a multitude of purposes!
While our most popular product, Shade Sheds, are commonly used for protecting your precious assets, such as cars, caravans, motorcycles, and boats, they can also be built to add an extension to your home.
TSS offers simple home improvements you can undertake
to protect your grandparents.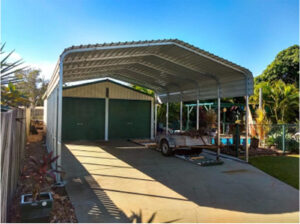 Covered Driveways
Keep your outdoor driveways or parking areas dry to help prevent potential slips and falls with a Shade Shed or Canvacon. Our Shade Sheds are completely customisable in length, height, fixings, and colour, to ensure we have an option for everyone! Made of 100% Aussie steel and designed using our patented technology, making it 30% stronger, you can ensure it will withstand all types of weather. They can be either anchored to the ground or onto a concrete slab.
Insulated Buildings
Transportable Shade Sheds Portable Building range is a perfect addition for those who want an extra room outside of their home. Our fully insulated Portable Buildings offer additional options including extra walls, windows and doors. For example, your grandparents could use them in the cooler months or in heavy rain and storms.
Our Portable Buildings also provide additional storage for items your grandparents may no longer use. An imported Shed may put your grandparents' items at risk for damage and rust, but providing them with a rust-free, Australian made Portable Building provides them with the peace of mind that their valuable items are protected!
There are many things you can do to help protect and look after your grandparents.
Transportable Shade Sheds, provide you with the peace of mind that your loved ones are protected in all stages of life.
Explore our range today!